Inversion Sling
Relieves back pain by providing a combination of spinal traction
and low-back muscle stretch.




Gravity and Back Pain


Our

Inversion Sling

relieves back pain by combining spinal traction with low-back muscle stretch.

Traction

: As gravity pulls on your hanging torso, the joints between your vertebrae open. The opening relieves pain caused by pressure on spinal nerves and discs.

Stretch

: Much low-back pain comes from tension in the low-back muscles. When you hang with your thighs at right angles to your torso, the Inversion Sling stretches these muscles.
Combining stretching with traction will relieve many kinds of low back pain.



Gravity and Your Abdominal Organs

As you age,

your abdominal organs lose their suppleness, and function less efficiently. Loss of suppleness results, in part, from gravity's continual drag on all the soft tissues of your body. Our Inversion Sling helps preserve the resilience of your soft tissues by reversing the direction of gravity's drag. The reversal rests your organs from gravity's pull, while stretching and toning them. Rested and toned, they perform better and age more vitally.



Stretch Your Shoulder, Chest and Groin Muscles

You can use the Inversion Sling to stretch your chest and shoulder muscles by flexing your arms as shown in the bottom image on the right. In the image at left, clasping the ankle stretches muscles on the front of her thigh.

Safely holds 350 pounds.

"Seat" is cotton corduroy filled with cotton batting.

Straps are 2" nylon webbing.

We make two sizes of

Inversion Slings

: for 7' - 9.5' ceilings and for 10' - 12' ceilings.
Mounts easily and securely in ceiling. Includes everything for simple, quick installation.
The included Inversion Sling Usage Guide explains how to install and use your

Inversion Sling

.
Save when you bundle an Inversion Sling with a set of Yoga Ropes!

Inversion Sling for 7' to 9.5' ceiling: $150.
Inversion Sling for 10' to 12' ceiling: $165.
Inversion Sling for 7' to 9.5' ceiling PLUS Yoga Ropes: $275.
Inversion Sling for 10' to 12' ceiling PLUS Yoga Ropes: $290.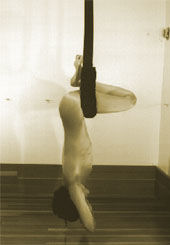 The position above stretches her low back muscles, releasing tension and spasms, while gravity pulls her spine into gentle traction, opening the spaces between her vertebrae.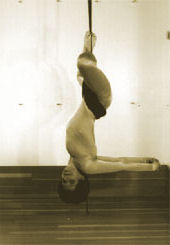 This position stretches her inner thigh muscles while stretching her belly organs horizontally. Extending her arms creates an intense stretch of her chest and shoulder muscles.