Yoga Ropes

Stretch and strengthen all major muscle groups; relieve back pain; tone pelvic and abdominal organs; practice backbends, forward bends, and shoulder stretches.

Our Yoga Ropes are still the most effective and versatile tool for developing strength and flexibility.
Each set of Yoga Ropes includes two upper ropes and two lower ropes, all mounting hardware, and the Yoga Ropes Usage Guide. With a hammer, drill, and screwdriver, you can mount Yoga Ropes securely into almost any wall.
Yoga Ropes are made from high quality dacron rope, and their ends are treated to prevent unraveling (see image top right). We make our Yoga Ropes with the strong white and gold braid shown at right.

Our Yoga Ropes are installed in thousands of homes and studios around the world.


The amply illustrated Yoga Ropes Usage Guide, included, explains how to install your Ropes, and how to do all of the poses shown on this page, and many more.

Explore the images below to learn how Yoga Ropes support a huge range of movements and exercises.



Abdominal Strengthening

: The images at right show how you can exercise different abdominal muscles by practicing leg lifts with the Yoga Ropes.



Backbending

: The images at left demonstrate Yoga Ropes as an aid in backbending. Yoga Ropes give you many ways to flex your shoulders, open your chest, and stretch the muscles on the fronts of your thighs.



Downward Facing Dog

: The image at right shows how you can use Yoga Ropes to create spinal traction in Downward Facing Dog. The Yoga Ropes pull her thighs backward, so that her spine falls forward into delicious traction, soothing back pain and tension. This pose also creates excellent hamstring, shoulder and chest stretches.



For

ward Bending

: The images at right show how grasping the Yoga Ropes helps extend your spine so your chest won't cave in as you practice forward bends.


Save $10/set when you order 6+!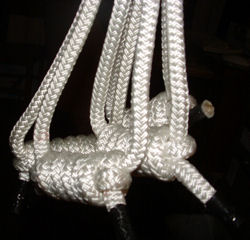 Above: Rope Handles with finished ends↑.
Below: We use this white and gold braid↓.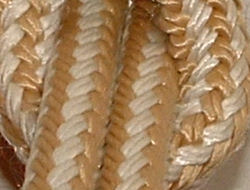 Above: Leg lifts for abdominal toning.