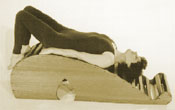 The Backbending Bench functions as a slant board, supporting her pelvic and abdominal organs in gentle inversion.
Stretching Pelvic and Abdominal Organs

Yoga is unique among exercise systems in its capacity to tone and stretch organs as well as muscles. By stretching, pressing, inverting, twisting, and massaging, yoga poses promote blood circulation that nourishes and cleanses your organs, while toning the muscles that line organ walls. Better nourishment, more efficient cleansing, and regular toning add up to increased vitality and healthful aging.

Our Backbending Bench supports you in poses that stretch, press, and invert your pelvic and abdominal organs. When you lie with your back on the Backbender's main hump, the Bench supports your body in a gentle arc that stretches all of the organs on the front of your body. When you lie with your hips over the Backbender's main hump and your head toward the Backbender's foot piece, the Bench functions as a slantboard, supporting you in a position that inverts your pelvic and abdominal organs. The stretch tones and increases circulation to your organ walls, while the inversion counteracts the effects of gravity's continuous distorting tug.